Student Services Division
The uppermost function of the Student's Services Division is focusing on the creation of a device to satisfy the students of this University by providing quality education. Therefore, this division is highly concerned with the welfare of all five Faculties of RUSL.

The main functions are responsible for the matters related to the Mahapola scholarship and the Bursary Funds to the students on time.
The key functions of Student Services Division are to administer the student welfare matters at the university. This branch liaises with all 6 faculties in order to maintain a better welfare system.
The student Services Division is highly concerned about providing accommodation facilities to students who are coming 40 km away from this university. Accordingly 20 internal hostels as well as external hostels altogether providing hostel facilities to the internal students. And also the Student Services Division provides facilities for getting concessionary season tickets for public transport (SLTB) for the non- resident students.
Under the purview of this Student Services Division there are 10 canteens that provide food facilities to the students as well as staff members. The University bears some assistance including power and energy to the canteen operators.
The Student Services Division is also responsible for matters related to the administration of the Mahapola scholarship after the selection is made by the University Grants Commission. Bursary is available for low income students and Student Services Division administrates the entire process of granting bursary to students.
One of the important responsibilities of the Student Services Division is conducting and coordinating the elections of the Student Unions of the facilities and major Student Unions of this University.
Student societies are required to register or renew their registration every academic year at the student services branch. The Student services branch is also responsible for convening meetings of Proctor and Deputy Proctors, the Senior Student Counselors, Wardens and Sub wardens. The Assistant Registrar/Senior Assistant Registrar/Deputy Registrar will be the Executive Secretary to the Arts Council and the Convener to the Ragging Prevention Committee.
Students are required to obtain permission from the university to organize any activity .The Student services branch issues permission letters to students to organize such activities.
In addition to the above, the student services branch coordinates and facilitates the selection process of the Senior Student Counselors, Wardens, and Academic Sub Wardens.
This division also responsible to the Vice Chancellor for the appointment of officers to ensure the discipline of the students and we convene the meetings from time to time to review the progress.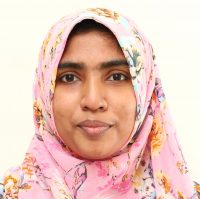 Assistant Registrar
Ms. M. N. F. Nihma