The Registrar is a full-time officer of the University and shall exercise, perform and discharge such powers, duties and functions as may be conferred or imposed on or assigned to him by this Act or by any appropriate instrument.
The Register under the direction of the Vice-Chancellor handles all matters pertaining to general administration. The administrative services are provided through 8 administrative divisions [(i.e .. i) Academic Establishment Division, ii) Non-academic Establishment Division, iii) General Services Division. iv) Student Services and Registration, v) Capital Works Division. and vi) Legal and Documentation Division], 9 service divisions [i.e. i) Security Division, ii) University Medical Centre, iii) Maintenance Division, iv) Physical Education Division v) Landscape Division, vi) Marshal Division, vii) Statistical Information divisions/units]
The Registrar functions as the Secretary to the Council, Senate and all the Council and Senate sub-committees.
Monitoring, Safeguard, and maintenance of university properties which include movable, immovable and records of the university
The Official Secretary of the Governing Council of the University which include administrative functions relating to the Council matters
Assistant Accounting Officer of the University
Directing management and administrative functions e.g., records, establishment, appointments, accounts and admissions
Disciplinary control of the non-academic staff of the university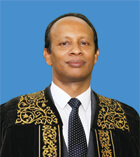 Registrar
Mr.  A. M. G. B. Abeysinghe