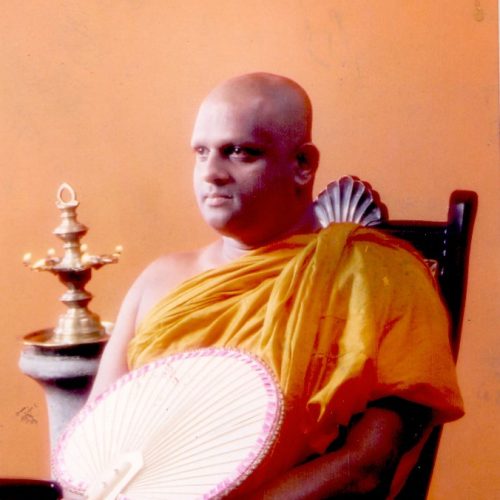 The Chancellor of the Rajarata University of Sri Lanka
Ven. Eethalawetunuwewe Gnanathilaka Thero
Gnanathilaka, the eldest son of blessed parents K. B. Sita and N. Gunawardena, were residents of the village of Pirappanmaduwa in the Mamaduwa area in the  Vavuniya District, was born on the 18th April 1969.
After receiving his primary education from Vavuniyawa Gamini Vidyalaya Vavuniya, Pihimbiyagollewa Maha Vidyalaya Anuradhapura and Mahakumbukwewa Vidyalaya, Ven. Gnanathilaka entered the sasana as  Eethalawetunuwewe Ven. Gnanathilaka Thero,  on the  13th May, 1981 in the temple courtyard of Ruwanweli Seya as a novice-monic.
Ven. Gnanathilaka Samanera Thero of Eethalawetunuwewe received his basic education from Maha Vihara Pirivena and Sandalanka Shastrodaya Maha Pirivena and higher education at the Pali and Buddhist University of Sri Lanka. His reverence completed his  Postgraduate studies at the University of Kelaniya.
Ven. Gnanathilaka Thero who took over as the Chief Incumbent of the Mirisawetiya Rajamaha Viharaya in Anuradhapura in 1983 was able to fulfill many responsibilities including the conservation work of the Mirisawetiya Stupa and the monument complex which was being renovated at that time.
Ven. Gnanathilaka Thero was first appointed as the Chief Incumbent of Anuradhapura Mirisawetiya Rajamaha Vihara in 1983. His reverence fulfilled a number of responsibilities including the conservation of Mirisaweti Stupa which was under reconstruction and the complex of stone pillars. His reverence had to sacrifice a lot to gift the Mirisaweti Stupa in this present state by continuing the renovations commenced by the former Chief Incumbent of Mirisawetiya, the present Atamasthanadhipathi, Most Ven. Dr. Pallegama Sirinivasa Nayaka Thero in 1990's.
Ven.  Gnanathilaka was able to make a huge physical development for the current needs of the place and performed a significant religious service as well. Carrying out many social activities at the Mirisawetiya Shrine is one of the most valuable ongoing missions led by Ven. Gnanathilaka Thero. Supporting thousands of farming families, providing scholarships to thousands of students, providing necessities to thousands of pregnant mothers for a number of years, consecrating eightfold offerings and educational equipment to thousands of samaneras and providing all kinds of equipment and consumer goods required for impassable temples are some of the predominant social services organized by Ven. Gnanathilaka Thero.
Providing relief to the people not only in crises that arise from time to time but also in disasters faced by people, conducting welfare medical camps in order to provide relief to throughout the district, maintaining several high quality orphanages with superior facilities and organizing religious programmes for the national interest are some of the national, religious and social services rendered by Ven. Gnanathilaka Thero. It is worthy of mentioning that this honorable reverend has been able to provoke religious revival by providing opportunities for the people within the country as well as all over the world.
Ven. Gnanathilaka Thero, while fulfilling his responsibilities as the Secretary of Atamasthana Kaaraka Sangha Sabhawa, is also doing a great service in spreading Buddhism locally as well as in foreign countries.
Apart from authoring books about Mirisawetiya and Atamasthana (the eight sacred places) in Anuradhapura, his reverence also guides other writers in their academic work.
Considering the services rendered by Ven. Gnanathilaka Thero of Eethalawetunuwewe to enhance the development of education as well as the upliftment of the religion, his reverence was appointed as the Chancellor of the Rajarata University of Sri Lanka in the year 2020 by the President of the Democratic Republic of Sri Lanka, Hon. Gotabaya Rajapakshe. Thero has been working as Viharadhikari of Ruwanweli Saya temple since December 2022
It is a privilege to write this message as the new Chancellor of Rajarata University when the whole world is at a critical juncture.
Our aim is to develop Rajarata University into an institution that produces viable scholars appropriate to the 21st century. According to a survey conducted by the World Economic Forum, there are four types of intellectual skills required for the 21st century. These skills have been identified as;  technical skills, intellectual skills, management skills, and business skills. In this way, Harvard University also revealed that over fifty percent of the jobs created by humans in the next 10 years would be snatched away by artificial intelligence, that is, by robots. All that is left for man to do is analytical thinking with creative abilities and activities that are guided by conscience.
So what we need to do is develop these skills in students that are needed for the future. To this end, we must work with Western scientific knowledge, using the universal components of Buddhism and practical strategies. Realizing that Rajarata is a haven of valuable resources, our University is ready to guide to prosper the province and the country with those resources. The University is also ready to conduct research to provide solutions to local problems such as communicable and non-communicable diseases.
Thus" our University should be a pioneer in introducing the necessary research to the world in the near future. Its foreground signs are already visible. It is gratifying to note that this University, which is still young today, is of a high standard.
By 2020, not a single university in Asia will be among the top 10 universities in the world. Not a single university in South Asia has been ranked among the top 100 universities in the world. We must first aim to be among the top 100 universities in the world and secondly among the top 10. It is not an exaggeration. The highest wisdom in the world is originated in Asian countries. Meanwhile, we the Sri Lankans have done unique work in the world in a number of fields. We must bring forward our traditional knowledge as well as innovations that can be adapted to the new world. To this end, research work should be expedited. It is also necessary to endow society with a scholar full of human qualities. Being located in a historical academic area, our university  is where all these objectives can be achieved. I strongly believe that this website is also a valuable opportunity to embark on that journey. So, I vehemently offer my best regards.
Ven.Eethalawetunuwewe Eethalawetunuwewe Thero