MESSAGE FROM THE VICE CHANCELLOR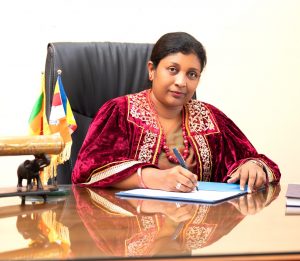 As the Vice Chancellor of the Rajarata University of Sri Lanka, my vision is to make it a leading, extraordinary University in Sri Lanka and Asia in all fields of study with the highest caliber of education, research and personality development by capitalizing on skills, competencies and talents creating a multidimensional and globally accepted person with the effective knowledge generation and dissemination. This vision is on par with the present university vision and the present government vision for higher education.
My mission for the university is four-fold
Inspiring both students and staff to achieve excellence in quality of teaching and learning
Inspiring to enhance the image of the university by enriching education, research and innovations
Improving human and physical resources to maximize utilization and productive outcome
Improving the thinking pattern, attitudes and behavior to ensure social harmony and sustainable development
Involving to strengthen the governance and administrative systems for an effective service delivery
Impacting

on the persons and the world by creating opportunity seekers and innovators
The Rajarata University of Sri Lanka is 25 years -old university among the national universities in Sri Lanka and is located in the center of Buddhist Civilization. The university is not a new place for me as I have been serving the university for 20+ years bearing various academic and administrative positions and giving leadership for a variety of programs and events conducted in the university. I also have outside working experience and ample network which will help me to develop the university. The university has several strengths and opportunities identified and I plan to capitalize on them while overcoming weaknesses and challenges facing at present. My strategic direction to achieve this mission and cater to SWOC is through the advancement of teaching and learning, strengthening research culture, knowledge building and strengthening of students and staff developing of infrastructure and enhancing industry partnerships and empowering the community and establishing good governance and administration. 
Professor Sanjeewanie Ginigaddara
Vice Chancellor