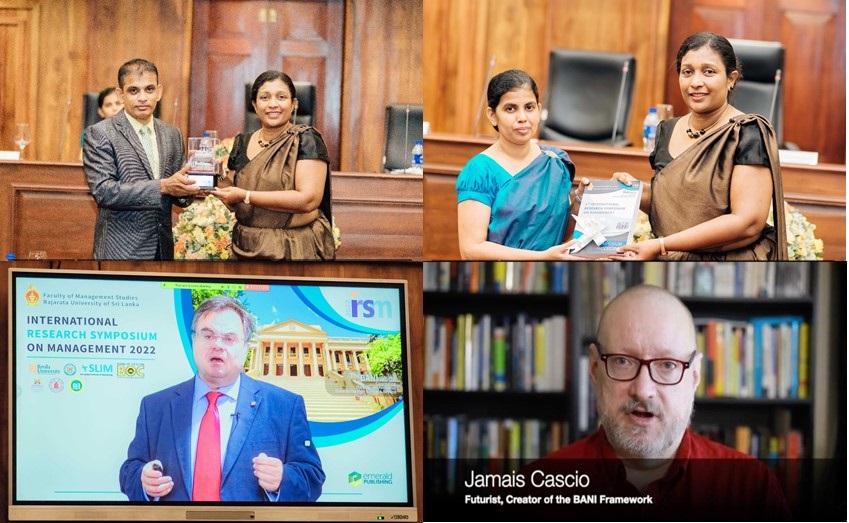 01st International Research Symposium on Management (IRSM 2022)
The BANI World: Co-creating Business Resilience towards the New Normal and Beyond
The First International Research Symposium on Management (IRSM 2022) organized by the Faculty of Management Studies at Rajarata University of Sri Lanka was held on 06th October 2022 with the theme of "The BANI World: Co-creating Business Resilience towards the New Normal and Beyond", with the prime objective of sharing research findings, novel concepts and disseminating knowledge of young researchers with the collaboration of diverse scholars and practitioners. 
The IRSM-2022 was hosted as a hybrid event, and it was graced by the presence of the Vice-Chancellor of the Rajarata University of Sri Lanka, Prof. (Mrs) GAS Ginigaddara, as the Chief Guest of the event. Keynote speakers of the event were Professor Dimitrios Buhalis, a Strategic Management and Marketing expert with specialization in Information Communication Technology applications in the Tourism, Travel, Hospitality, and Leisure industries, The Hong Kong Polytechnic University, Prof. Luis Martinez, a Full Professor in the Department of Computer Science at the University of Jaén, Spain, Prof. Roshan Ajward from the Department of Accounting, Faculty of Management Studies and Commerce, the University of Sri Jayewardenepura, Sri Lanka and Dr. Jamais Cascio, an author and the futurist, attached to the University of California, the United States of America. In addition, Prof. Jayantha Dewasiri, the Brand Ambassador of Emerald Publishing for the South Asian Region delivered a plenary speech.
The symposium was successfully concluded with the participation of prominent scholars as session chairs both locally and internationally from well-reputed universities. Eighty-eight extended abstracts were presented under the tracks of Accountancy and Finance, Contemporary Studies in Management, Economics and Entrepreneurship, Human Resource Management, Information Systems, Marketing and Supply Chain Management, Operation and Total Quality Management and Tourism, Hospitality and Event Management at the symposium and were published in the proceedings.
The academic partners of the IRSM-2022 were Breda University of Applied Sciences, Netherlands; Ajeenkya DY Patil University Pune, India; Macau University of Science and Technology, Taipa, Macau, Sichuan University, P.R. China; Universidad Católica del Norte, Chile, Sri Lanka Institute of Marketing Sri Lanka (SLIM). Emerald Publishing and a few academic journals, including Tourism Review, Tourism Anthropology, Rajarata University Journal, and Journal of Management Matters, are the publishing partners of IRSM-2022. A few researchers will get an opportunity to publish their papers in the above journal, subject to the journals' standard reviewing process.