About the Institute
The Staff Development Centre of the Rajarata University (SDC) was established in 2005. According to the corporate plan of the RUSL the SDC is expected to develop competencies and promote career development of the all categories of staff at Rajarata University. The main aim of the SDC is to make university teaching and learning process more effective, more relevant, student oriented and to achieve international standards by placing special emphasis on training of new recruits to the academic staff in innovative teaching methodologies. Moreover, SDC is committed to promote the development of skills and competencies necessary for more effective and efficient performance among all members of the staff of the University.
Vision
The vision of the Staff Development Centre is to be a hub of excellence in professional development.
Mission
Mission of the Staff Development Centre is to provide appropriate training and development opportunities to employees to become committed, motivated and competent professionals.
Upcoming News and Events
Information session by Fullbrigtht Commission on Scholarships and Fellowships
Informative session will be conducted by Fulbright Commission of Sri Lanka for academic staff members of the Rajarata University. This session will cover details of scholarships for postgraduate programs and fellowships for senior academics. 
Contact Staff Development Centre for registration. More
Training Program for Executive and Academic Staff on University Financial and Administrative Procedures
This program is starting on 23rd of March 2023 and will continue on 28th March,18th and 25th April, 2nd of May 2023. To register fill out the provided google form. More
Training program to improve soft skills of University staff members
This program is scheduled on 2nd and 3rd March 2023 at the Staff Development Centre for both academic and non-academic staff members of the University. More….
Training program for executive staff and head of academic departments (Senior Academics) on University financial and administrative procedures
This program will start in March and the applications are accepted now. Please contact SDC office for more information
Academic Staff Induction Program 2023
Applications are now accepted for the above program leading to CTHE (Certificate in Teaching in Higher Education). Program will start in April 2023. Applications can be downloaded from the SDC website.  Please contact SDC office for further details.
Prospective Rajarata Toastmaster Club
The meetings of prospective Rajarata Toastmasters Club (dedicated for Rajarata University Staff and Alumni) continue in every other week in SDC auditorium. If you are interested in becoming a member, forward your mobile number to sdc@rjt.ac.lk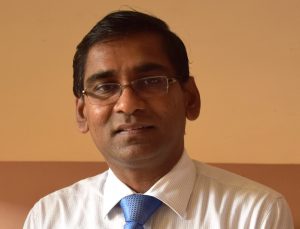 Director
Dr. Lalith Senarathna
Ph.D. (Sydney), M Med Sci (Newcastle), Grad IChem