"Internal Audit Division of the Rajarata University of Sri Lanka functions under the Assistant Internal Auditor who is directly reported and responsible to the Vice - Chancellor of the university."
Internal Auditing Division is an independent, objective- assurance, and advisory activity designed to add value to improve the internal operations of the University. As specified in Financial Regulation 134 (1), the Internal Audit Division should be independent of the control of those  responsible for or carrying out the financial and accounting operations of the University. As well as those who are engaged in the execution of schemes and projects or perform and of work and services rendered by the department. In exercising duties the Internal auditor should have full access to all books, data, employees, premises and activities of the organization in order to function effectively.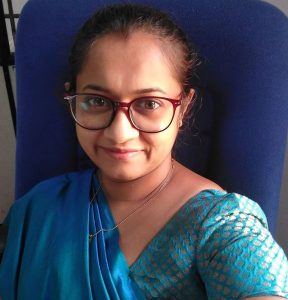 Assistant Internal Auditor
Mrs. C. D. Fernando
| | |
| --- | --- |
| Telephone |  025-2266693 |
| Extension | 2180 |
| Mobile | 071-2894899 |
| Email | in.audit@rjt.ac.lk charani.ia@rjt.ac.lk |
Authority, responsibility, resources, and scope of the Internal Audit Function are reviewed by the independent Audit & Management Committee of the University which comprises eight members of Government Auditor, Internal Auditor, Registrar & Bursar of the University, Treasury Nominee from the Finance Ministry and Council Members. Activities of the Internal Audit Branch are carried out according to the Annual Internal Audit plan approved by the Audit & Management Committee of the university.
The Internal Audit staff is responsible for conducting themselves so that their good faith, good character and integrity will not be open to question. Internal Audit Division has adopted the Codes of Ethics issued by the Institute of Internal Auditors, USA and the Institute of Charted Accountants of Sri Lanka. Staff shall realize that individual judgment is required in the application of these standards.
Internal Audit Objectives
Determine the accuracy and propriety of financial transactions.
Evaluate, consult, and educate on financial and operational processes, controls, related risks, and exposures. Provide advice and guidance on control and risk aspects of new policies, systems, processes, and procedures.
Verify the existence of university assets and determine whether proper safeguards are maintained to protect them from loss.
Determine the level of compliance with university policies and procedures and state and federal laws and regulations.
Evaluate the accuracy, effectiveness, and efficiency of the University's electronic information and processing systems.
Determine the effectiveness and efficiency of organizations in accomplishing their mission and identify operational opportunities for cost savings and revenue enhancements.
Coordinate audit efforts with and assist the Central Internal Audit Unit, University Grants Commission, and external auditors.
Investigate fraud and other types of fiscal misconduct
Maintaining Standards and Ethics.