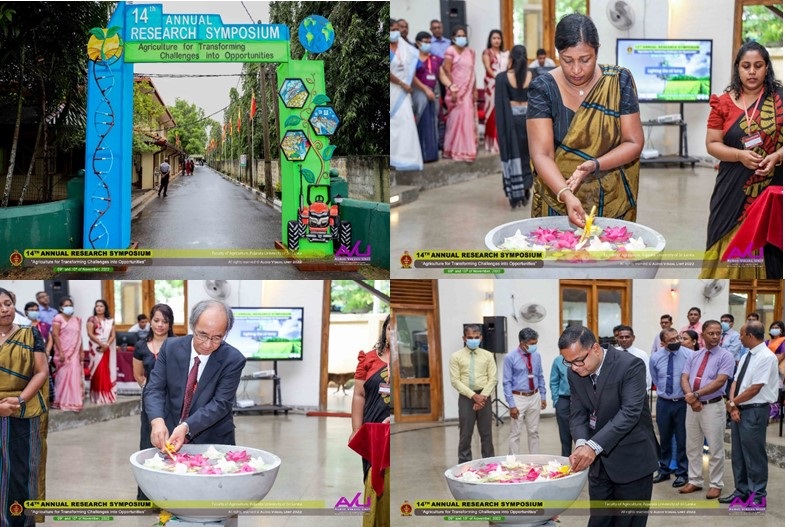 14th Annual Research Symposium – 2022
The Faculty of Agriculture, Rajarata University of Sri Lanka held its 14th Annual Research Symposium on the 9th and 10th of November 2022, themed "Agriculture for Transforming Challenges into Opportunities". As The Chief Guest, the Vice Chancellor, Prof. (Mrs.) G.A.S. Ginigaddara graced the event. Researchers, the executive staff of the university, non-academic staff, students of the faculty, sponsors, and other invited guests attended the event. The 14th Annual Research Symposium's coordinator, Dr. (Mrs.) N.W.I.A. Jayawardana was the coordinator of the symposium while Editor-in-chief, Prof. (Mrs). W.A.D. Nayananjalie to the Vice Chancellor intensifying the academism of the moment. The announcement of the Faculty of Agriculture's Research Excellence Awards for the years 2019, 2020, and 2021 was the most exciting moment of the event. The Research Excellence Awards went to Prof. M.H.J.P. Gunarathna, Dr. L.K.W. Wijayaratne, and Dr. (Ms.) A.J. Fernando. The emeritus Prof. Kazuo Ogata, Chief advisor to the PRECIDA – University of Jaffna collaboration delivered the keynote speech on the topic "International Collaboration in Agricultural Higher Education Institutes: Lessons Learned from Experience in Japanese Universities" steering undergraduates for a better ambition.
The pre-symposium workshop activities conducted after the inauguration consisted of an industrial speech by Chief Executive Officer Ajith Mohan Perera of Anuradha Ceramics (Pvt) Ltd, a 3-minute thesis competition, a session for postgraduate research presentations, and a session for international undergraduate experience sharing. The technical sessions of the symposium commenced on the 10th of November and consisted of 146 oral presenters representing 8 major modules under the four academic departments of the faculty.